One doesn't know where they are going until they know where they came from.
Hammonds Plains Historical Society Open House – The Hammonds Plains Historical Society will be hosting an open house at the Hammonds Plains Community Center (2041 Hammonds Plains Road) on Sunday January 28th from 1pm – 4pm. There will be a picture display of 'Hammonds Plains of the Past' along with three mini presentations. Refreshments will also be served. Drop in and learn about the Hammonds Plains and it's past. Bring along your old pictures (if you have any).
Presentations include:
30 Pictures in 30 minutes – A look at 30 vintage Hammonds Plains Pictures from the past with a description of each.
A Look at Hammonds Plains Past & Present Booklet – by Phil Nixon
The History of the Hammonds Plains Community Center Building (1939-Present)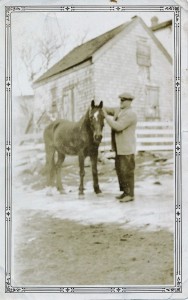 One of the many barns that once were common in Hammonds Plains
The Hammonds Plains Historical Society is please to accept monetary donations, photo's (either original or copies) and other historical documents  to help us preserve the history of our community.  Thank you for the support.