Hammonds Plains Historical Society Fall 2023 Update:
Our next general meeting and presentation is upcoming on Monday November 27th at 7pm. It will be held at the Cornerstone Wesleyan Church (1215 Hammonds Plains Road). The presentation for the meeting will be 'The Story of the Upper Hammonds Plains Fire Department'. Come and learn how Canada's first all Black Fire Department came to be and how it left a profound legacy on the community it served. The presentation will be facilitated by Gina Jones-Wilson, the first female African Nova Scotia to serve as a voluntary fire fighter.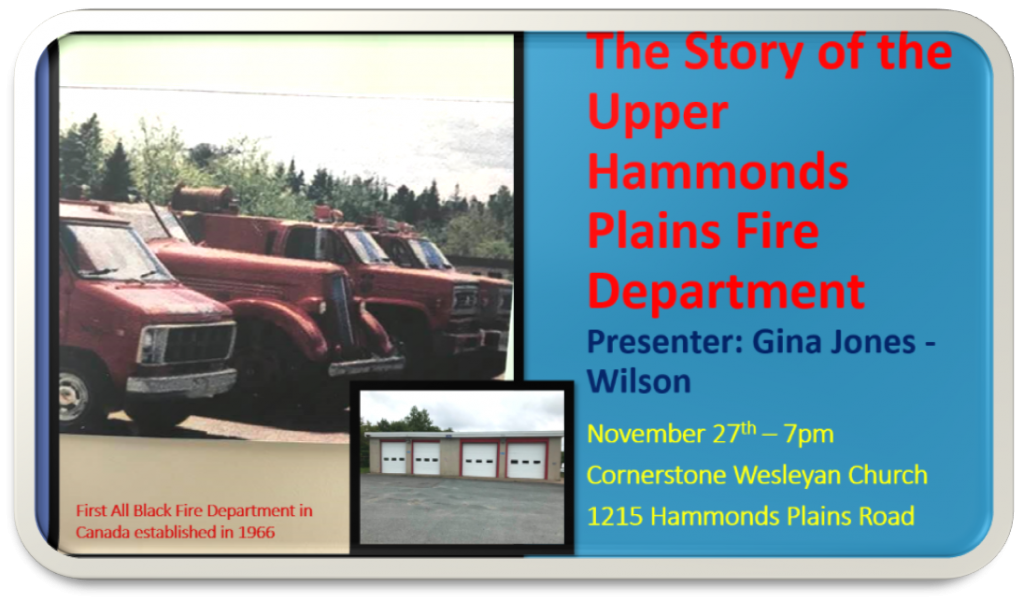 We are posting weekly historical photos on our Facebook page. If you haven't done so yet, please check out our Facebook page and see all of the fascinating photos that have been posted so far. Each of the photos have a short description of what each photo is all about.
The first 3 episodes of Hammonds Plains – A Journey Thru Time, our multi part podcast on the history of Hammonds Plains are now posted under the Resources section of the web site. When finished we will have a comprehensive history of the community. Each episode is 10-15 minutes long.
Memberships 2023-24: We are accepting memberships for the society for the 2023-24 year. Membership fee is $10 per year. If you have been a member in the past, no need to fill out a new registration form. Fees can be sent by cheque to: 1541 Hammonds Plains Road, Hammonds Plains, Nova Scotia B4B 1P6 or by e-transfer to haverstockdave@gmail.com.
New Memberships can be completed by going to our website, filling out a membership form and sending fee, either by cheque or e-transfer.
Contact Us:
22,167 total views, 28 views today